On Tuesday, our day started with 7AM Team Canada breakfast, followed by conference registration and team pictures!
Photo credit: Kate Taylor
Next, we set up our Little Hands Extended display. Our brand new Microsoft Surfaces  were waiting for us at our booth!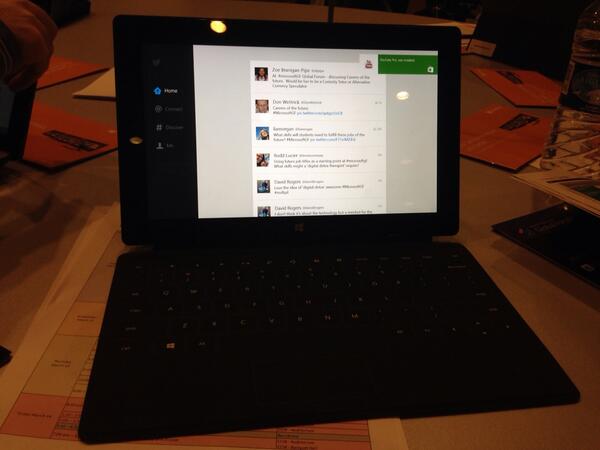 We attended the team building session with Tracy Immel.  This was an opportunity to meet our "Learn-a-Thon" teams and work with them on a group activity.  We then had professional development sessions that helped us learn to use our Surfaces and gave us some ideas for using them in the classroom.
Our Little Hands Extended exhibit was open from 2:45-6:30 and one of our judges visited our booth to find out more about ou
r project and evaluate it based on the 21st century learning rubrics.  It was a very busy afternoon of meeting and reconnecting with teachers, principals, Microsoft staff, sponsors and judges.  We really enjoyed sharing our students' great work and we received lots of positive feedback on their great action plans – way to go Kindergartens and Grade 1s!  A big highlight was when Microsoft's Vice President for Education,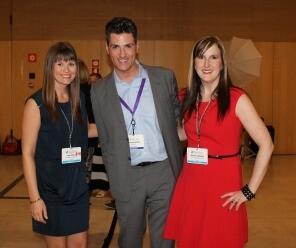 Anthony Salcito, stopped by our display!
After exhibits closed, we had a short break and then returned to the conference center for the welcome reception.  We met up with many people we'd met at previous forums and also made some great new connections.  One of the best parts of this event is meeting people from around the world who are passionate about improving and changing education.  We had some great conversations and learned a lot! We even got to chat with one of our favorite keynote speakers from the 2012 Forum, Simon Breakspear and behavioral scientist Matt Wallaert, who works for Bing.